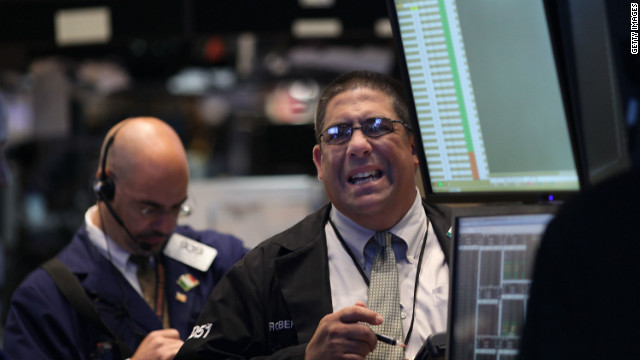 Athens (CNN) -
Greece has voted. New Democracy, its pro-bailout party, prevailed in Sunday's election and still market reaction has been decidedly muted. Much like last week's market performance following Spain's aid request, the euphoria fizzled quickly as traders focused instead on the considerable unknowns looming in the distance.
Among the unanswered questions: Will Greece's New Democracy party be able to form a government? And how much leeway will it have to soften the terms of its Troika-prescribed austerity package?
Writing to clients today, HSBC economists David Bloom and Janet Henry said Greece's result may offer temporary relief but warned that "major challenges remain."
"While a coalition of pro-bailout parties would put the idea of a Greek euro exit on the back burner for now, it would not alter the underlying problems in the euro zone itself," they added.
More worryingly, they went on to say that "a temporary halt to Troika funding cannot be ruled out."
Stuck in their fifth year of recession, Greek voters went to the polls for the second time in six weeks after a first round in May proved inconclusive.
Antonis Samaras, center-right leader of New Democracy, hailed his party's near-30% score as "a victory for all of Europe" and promised to honor Greece's commitments - but begged for breathing space.
Since being granted its first bailout two years ago, austerity has hit Greece hard, and indeed the argument for restraint is gaining pace. During the IMF-backed programme, Greek debt as a percentage of GDP has skyrocketed to 165%, unemployment has doubled and the yields on Greek bonds have soared from high single-digits before the bailout to a whopping 35% after investors were forced to take a haircut.
Which all begs the question: Are such severe cuts killing the patient?
Speaking before the election results, Bob Parker, adviser to Credit Suisse Asset Management, said policymakers should rethink their strategy somewhat. "You have to ask yourself whether there's a tipping point when austerity becomes not so much the answer but more the problem," he said "At this point I think you could argue we have reached that point."
But even if Greece does manage to form a government, that does not detract from the lack of leadership present among Europe's political chiefs today.
Simon Denham, chief executive of spread betting firm London Capital Group, is among a number of City veterans who are skeptical about whether the Greek vote will ease eurozone jitters.
"Fundamentally there's a lack of confidence and a belief that neither central bankers nor politicians have a solution," he said. "It's like the snake biting its tail. The leaders are fearful of the markets instead of it being the other way around."
In their weekly note to investors, Mark Wall and Gilles Moec of Deutsche Bank went one step further, likening those with the power to stem Europe's crisis to two travelers "driving without a map" and lost among a myriad of unfortunate outcomes. "Bold action by the ECB is needed, but this is predicated on a credible road-map by the European Council," they explained.
Unfortunately, they went on to say, "there is no consensus at this stage on such a road map."
And fanning the flames for financial markets Monday: the yield on Spain's 10-year bond rose again above 7%, a level which previously priced other euro zone countries out of the open, capital markets and into the hands of the Troika.
So while leaders rejoice at Greece's pro-Europe choice, the markets are already focussing on the region's next potential victim. This time though, there's even more at stake.