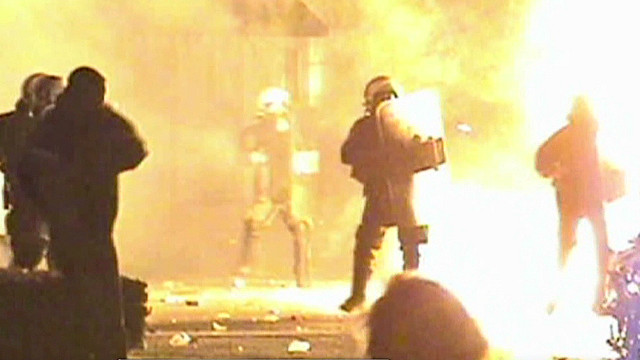 (Financial Times)
-- Angela Merkel, the German chancellor, declared on Thursday that Europe was "in a race with the markets" to turn its monetary union into a fully fledged political union, even as she warned her partners not to overburden the German economy in the eurozone crisis.
Her intervention coincided with a new surge in borrowing costs for Spain, following a downgrade by Moody's rating agency, while Italy moved to reassure the markets by promising further cuts in public spending.
Germany's 10-year bond yields, which move inversely to price, have edged up in recent days to 1.49 per cent, partially on expectations that Berlin will eventually be forced to impair its own creditworthiness to rescue the eurozone. The yield on Spain's 10-year bond briefly climbed above 7 per cent.
"Germany's resources are not unlimited," Ms Merkel said, warning parliament that the eurozone crisis would dominate the agenda of next week's G20 summit in Mexico.
In a restatement of the limits to German action in tackling the debt crisis, she reeled off a list of unacceptable demands from other countries -- including the US and UK -- for "big bang" solutions to solve the crisis.
They included jointly guaranteed eurozone bonds, which she described as "counter-productive" and illegal under the German constitution, as well as a publicly financed European bank deposit insurance scheme, and France's new call for a "financial stability package".
But Ms Merkel backed another French suggestion to make the European Central Bank the independent supervisor for the biggest European cross-border banks.
"Germany is strong, Germany is the economic engine and ... the anchor of stability in Europe," she said. Her country was "putting its strength and its power to use for the wellbeing of people, not just in Germany, but also to help European unity and the global economy. But Germany's strength is not infinite."
The key to an end to the crisis, she said, was not for Germany to guarantee the debts of its partners, but to agree on sweeping new rules of a political union in Europe to complete the process of monetary union.
'For those who want the Prussian cavalry to ride (Waterloo-style) to the rescue and save the situation at the last moment, Merkel's shift should look distinctly ominous'
"Europe has set out to complete economic and monetary union," she said. "Here we are certainly in a race with the markets."
In Spain, ministers sought to assuage mounting fears that the country would need a full financial bailout like those already required by Greece, Ireland and Portugal, while urging Germany to do more to resolve the crisis.
"The government is on top of things," said Luis de Guindos, Spanish economy minister, in a call for calm. "It is taking measures and will continue to take measures."
However, José Manuel García-Margallo, Madrid's acerbic foreign minister, appealed to Germans to understand that their successful economy would not be immune to a disaster elsewhere in the eurozone. "If they throw a country to the wolves, this will affect everyone, so they should have a more long-term vision."
Not for the first time, Mr García-Margallo also likened the eurozone to the doomed liner the Titanic and implicitly warned the wealthy Germans that "if the Titanic sinks it takes the passengers with it, including those in first class".
Investors said they were bracing themselves for further turmoil, and urged policymakers to take more decisive action to ease Europe's crisis.
"It all feels very vulnerable right now," said Kevin Adams, director of fixed income at Henderson Global Investors.
Greece's elections on Sunday have exacerbated concern that the country could eventually be forced to leave the common currency bloc, causing further contagion. Investors also worry that the recent eurozone agreement to recapitalise Spain's banks with up to €100bn could presage a far larger rescue package for the government itself.
"Spain is in a diabolical economic situation," said Ben Bennett, a senior strategist at Legal & General, one of the UK's biggest investors. "I would be surprised if the banking bailout is the only one Spain receives