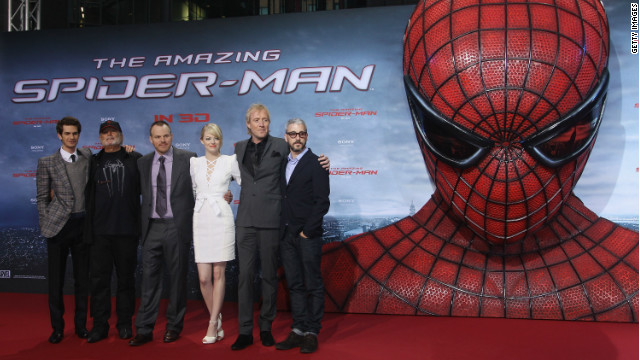 (CNN) –
For nearly a decade, the U.S. box office has been ruled by the comic book hero. Think Batman, Iron Man and X-Men.
But when "The Amazing Spider-Man" makes its debut next week, it won't be Americans holding the tickets.
The Columbia Pictures film, starring Andrew Garfield and Emma Stone, is set to open June 29
th
in Hong Kong, the Philippines and a slew of other Asian countries, nearly a week before it hits theaters in the United States on July 3.
This isn't the first movie to give foreign audiences a sneak peak. This year alone blockbusters such as "The Avengers," "Battleship" and "Prometheus" all looked to overseas audiences to kick start their box office figures.
Several theories attempt to explain this phenomenon.
The general consensus among movie junkies is that the trend is an effort by studios to avoid a loss of revenue from piracy. While there is no reliable data on movie piracy, it's safe to say that movie studios miss out on billions of dollars each year because of bootleg versions of their movies.
Another argument is that movie studios are spending more time and effort in optimizing releases for each individual market, foreign and domestic.
By scheduling international releases around local events, movie studios can avoid heavy competition for audience member's time and attention.
For example Euro 2012, the European soccer championship, is believed to be in part responsible for the early releases of both "Battleship" and "The Avengers," according to New York Magazine's entertainment website, Vulture.
However, the biggest reason movies are catering to foreign audiences is simple: that's where the money is.
According to the Los Angeles Times, the overseas film market has grown dramatically in recent years, with ticket sales jumping up 35% from 2007 to 2011. Compare that with a domestic growth of only 6%.
Movies today are making more money overseas than they do in the states. So far, "The Avengers" has made nearly 60% of its revenue overseas, according to figures from Box Office Mojo. Similarly, "Battleship" made nearly 80% of its money in foreign markets.
Studio executives are hoping that such positive overseas performances will also boost domestic sales.
"A big international gross signals 'Hey, this is a big, big movie' — it's not something that's just for fans, it's for everyone," Disney executive Dave Hollis told the Times.
And after the success of "The Avengers," which grossed more than $200 million in its opening weekend in the U.S., the model looks like it is working.