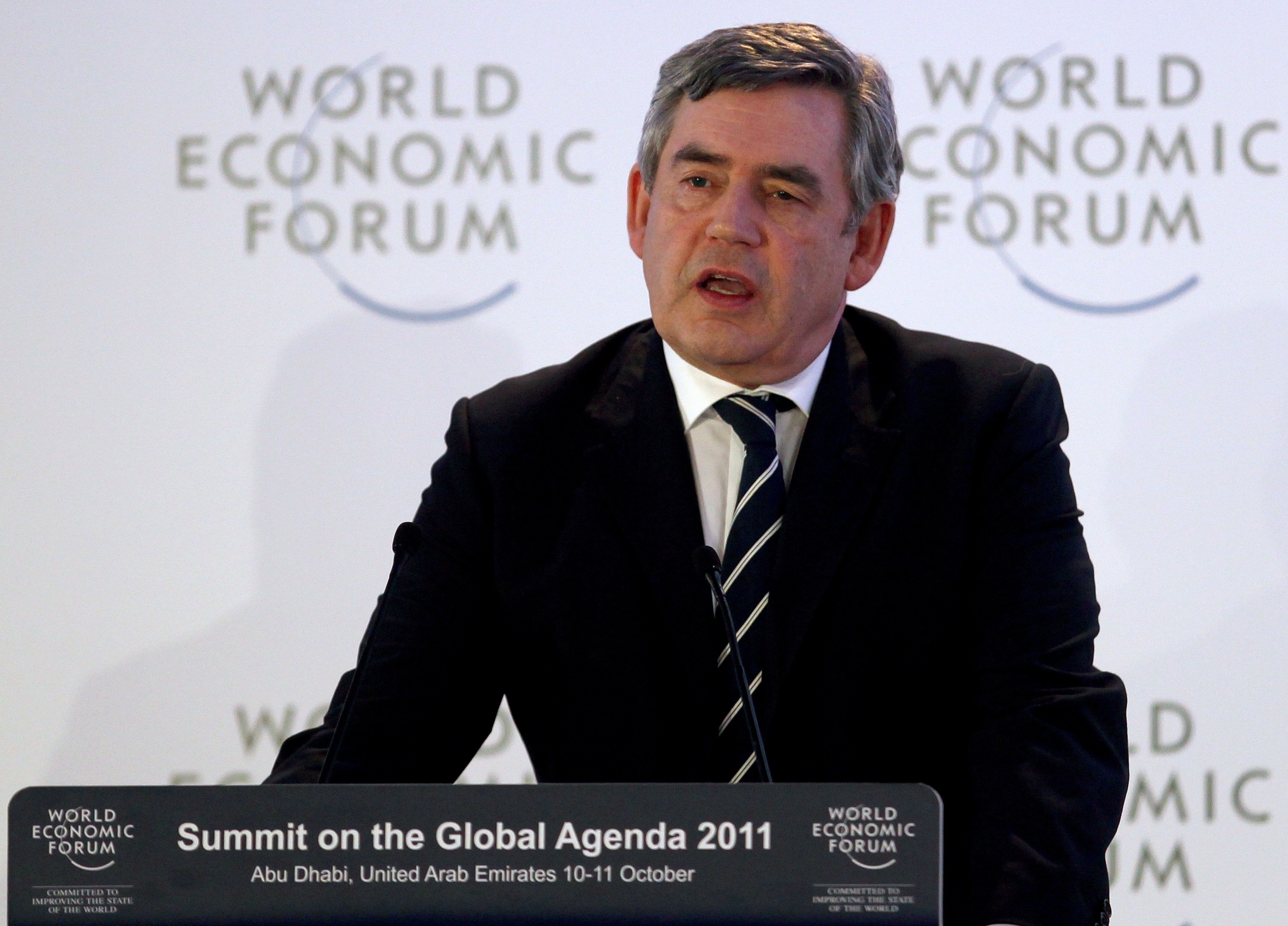 Abu Dhabi (CNN) – A stone's throw from the Abu Dhabi downtown waterfront, it is hard to miss major construction works. Hotel and apartment towers and road building are taking place right across from the Emirates Palace Hotel.
It does not look as if there's scope for recession here or heading east to Asia, where growth is expected to average more than 8% next year, according to the International Monetary Fund's latest forecast.

During a meeting of the World Economic Forum in Abu Dhabi this week,
former British Prime Minister Gordon Brown says European disunity caused by debt problems in Greece and elsewhere cannot be ignored by the fast-growing countries of the world.
"What this emphasizes is what happens in one continent affects another, and we have to have a better system of cooperation," said Brown.
"Global cooperation is even more important today as we are faced in my view with a new unavoidable global downturn."
In the winter of 2009, after the banking crisis triggered by the collapse of Lehman Brothers, Brown pushed for greater coordination by ushering in the G20 group of nations, in part to tap those with vast surpluses.
Not all agree with Brown's approach. Policy strategist Ian Bremmer, President of the Eurasia Group says the power of the G-20 to encourage global cooperation has waned and we have entered a 'G-Zero' world in which countries do not band together for mutual benefit.
But the same refrain is being sung today to have the surplus countries step in to provide liquidity. Obvious ports of call for European governments in need of capital are sovereign funds, such as those based here in the Gulf States. But the dynamics have changed in the past three years.
Sven Behrendt, a specialist on sovereign funds for a firm he founded called
GeoEconomica, says priorities in the Middle East have changed as a result of the Arab Spring.
"If you look into the Arab World for example there is domestic spending, domestic infrastructure that bites into government finances," says Behrendt.
In fact, governments are starting to trim their sails in term of spending, bracing for a gathering storm front from the West – both Europe and the United States with potential for a double dip into recession. The United Arab Emirates, despite a deep well of funds, has reportedly cut back infrastructure spending by $170 billion.
There is plenty of excess capital circulating with China at more than $3 trillion. Add the other BRIC countries, Brazil, Russia and India, and the tally is more than $4 trillion. If Middle East sovereign funds are put into the pool, there's another $1.4 trillion dollars.
But Douglas Rediker, an IMF executive board member, doesn't expect the taps to be opened on a grand scale.
"It does not mean you won't see isolated transactions," said Rediker. "You will hear a lot of goodwill gestures to stabilize markets, but we have not seen huge ten to 100 billion dollars of capital being re-deployed as a result of a desire to stabilize the global system."
Isolated transactions include moves by the Emir of Qatar through his sovereign investment funds to buy a Greek bank and a mining group despite the continued unrest and uncertainty.
China, for its part, has held talks with Italy and Spain about the purchase of multi-billion euro bond transactions, but there are strings attached.
"We have seen the Chinese leadership in the past couple of weeks come out with statements that indicate, yes we invest in European assets but some conditions need to be met" says Behrendt.
This includes trying to get Washington not to pass a bill through Congress to raise the value of China's currency the RMB or yuan. It is all part of the global horse trading when new financing is needed.