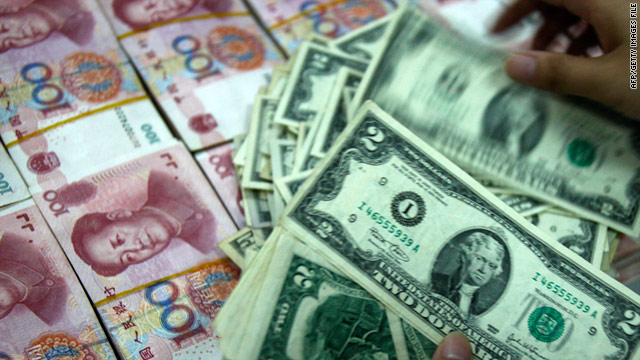 Hong Kong (CNN) - Chile and Venezuela, two countries in the opposite of the South American political spectrum, have something in common: both are interested in the Chinese yuan, or renminbi.
With the growing clout of the world's second largest economy and the slow but constant strengthening of its currency, the yuan is an increasingly attractive choice for reserve currency. While there currently are restrictions in its transactions, the two South American countries lead the flight from the U.S. dollar in the region.
In its latest monetary policy report, the Chilean central bank introduced a new item in its balance sheet with the appearance of $91 million of the country's reserves in yuan. It's a first exploratory step, according to high-level officials from the country. "It's about 0.3% of the international reserves," bank officials said in an e-mail to CNN. Still, plans are afoot in Chile to increase its Chinese currency holdings, bank officials said.
Venezuela announced the withdrawal of its reserves from their traditional seat in Europe and the U.S. back to its country and other emerging markets. Nelson Merentes, president of the country's central bank, made statements in favor of the Chinese currency. "It's logical to look for diversification in countries with solid economies that have protective shields like China," Merentes recently told journalists.
Beijing designated Hong Kong as a renminbi trading center, and growth in transactions here by states or companies place the city at center stage of the nascent moves toward the yuan as a global reserve currency. The currency's footprint has spectacular growth, according to the boss of the Hong Kong stock market.
"Deposits in Renminbi in Hong Kong have grown from HK$50 billion (US$6.5 billion) to HK$500 billion (US$64 billion) in a matter of fifteen months," Ronald Arculli, Chairman of the Hong Kong Stock Exchange, told CNN.
Together with deposits, yuan-denominated bonds have helped finance international companies like McDonald's and Unilever.
To be sure, the yuan has far to go to usurp other foreign reserve currencies of choice, such as the U.S. dollar, the euro and the yen. Nations and companies, however, are drawn to the growing strength of the yuan – although the rate of growth is tightly controlled by Beijing, which allows only limited daily increases in its value against the dollar. This, of course, is a frequent source of tension between Beijing and other economies.
There's no date yet for the yuan's free flotation. Arculli suggested it may happen in a not-so-distant future. But to allow economies to access the renminbi there have to be banks supplying these services. In South America, deployment is underway.
"A number of banks, for instance in Brazil, are already sending delegations to Hong Kong, they're looking at the possibility of setting up a representative office or even a branch office," Arculli said. "The financial sector is already moving ahead of their customer needs."